Fixing business travel's broken moments
October 13, 2022
Categories
Innovation,Sustainability,Travel Management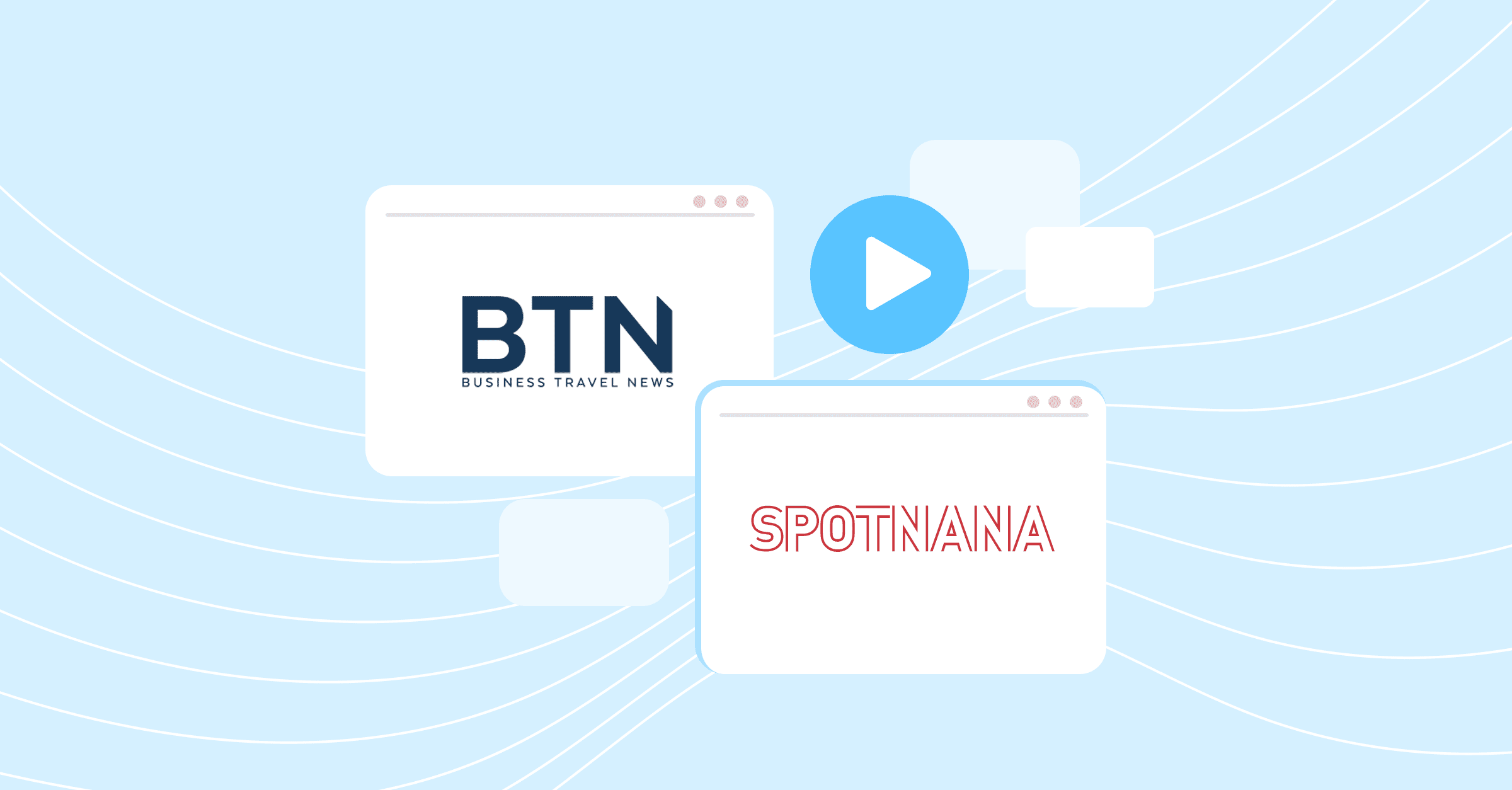 Corporate travel has problems. The legacy technology solutions used by travel management companies lead to fragmented data and inefficiency that create a poor experience for business travelers.
Modern technology, however, is transforming the business travel experience for travelers and travel managers alike.
In a webinar conducted with Business Travel News, Spotnana VP of Partnerships Johnny Thorsen dived deep into how travel managers can fix broken moments in the travel experience and reduce business travel costs in the process.
Here are six broken areas of the business travel experience that are being disrupted by modern technology and ways that travel managers can solve them. You can watch the full recording of the webinar by clicking here.
1. Limited or biased search results
Business travelers expect to find the most relevant and affordable content when booking a trip. Fragmentation in content sources, however, makes it difficult for legacy platforms to present travelers with the options they expect.
A modern corporate travel technology stack that aggregates, dedupes, and intelligently displays travel content for business travelers is needed to move the industry away from the limitations of the past. This approach also empowers travel buyers to ensure their travelers are seeing only the most relevant approved content.
"What we need to overcome these challenges is a new infrastructure where all the content is consolidated at the beginning," said Thorsen. "No matter where it's from, it has to go into one pipe. That pipe is controlled by you, the buyer, and only you. You decide if you want your TMC to influence the content you are buying from them."
With a platform like Spotnana, travel managers can offer their travelers the most relevant global content while retaining greater control over potential display bias that increases costs and complexity.
2. Loyalty benefits aren't accessible while booking
When corporate travelers book directly on an airline's website, their ability to select seats and pricing for amenities reflects their loyalty status with the airline. When they use a traditional corporate travel online booking tool, though, their status isn't reflected in the search, booking, or seat selection process.
Modern connections between airlines and corporate travel platforms now allow more robust merchandising and enable travelers to make decisions based on loyalty status when booking a flight
"Moving toward an offer and order world, we can understand who you are and deliver a result according to your status, your preferences, your history, whatever is relevant for an airline to show you," said Thorsen. "We can only do that by moving away from the [industry's] legacy infrastructure, because it simply doesn't do that."
Spotnana provides intelligent seat maps based on a traveler's loyalty status, for instance, and has the capability to show targeted fares and offers to specific travelers.
3. Unable to modify a flight without agent assistance
While online and mobile booking have become table stakes in corporate travel, self-serve trip adjustments remain problematic for many travel management companies.
This is the result of a separation between the online and offline channels in the traditional corporate travel management technology stack. Tickets booked on one channel may not be serviceable on another, requiring human intervention from an agent to make a change.
Modern technology, though, has connected these channels in a way that reflects airline fare rules and allows travelers to make changes regardless of the channel they are using.
"If we create a world where you can only change one type of bookings, then we leave the traveler with confusion because they will never know when they can do it themselves versus when they have to call an agent," said Thorsen. "So it has to work 100 percent of the time, not 60 or 70 percent. Travelers don't accept that anymore, and we should not accept it either because we have technology that allows us to solve that problem elegantly and smartly."
Spotnana empowers travelers to change and cancel their bookings from desktop and mobile channels regardless of how a trip was booked. By combining online and offline channels into one, Spotnana simplifies life for travelers.
4. Booking a new flight after a disruption
When a flight is delayed or canceled, it often falls to the affected airline to rebook a passenger. Travelers can spend hours waiting at the airport, only to find out they've been rebooked the following day on an inconvenient flight.
That airline may not even have a passenger's contact information, since that data is often stored by a travel management company in unstructured remarks in the Passenger Name Record.
When using a platform like Spotnana that is built on an extensible System of Record with a structured data model, business travelers have the power to rebook disrupted trips and receive more timely service from airlines.
"We need to say goodbye to the PNR and move into a new, truly digital order management system, living in the cloud with open access subject to permission," said Thorsen. "This also accelerates the ability for travelers to do more things [themselves] because structured data enables automation and more access in a simplified user interface."
5. Making sustainable booking decisions
As companies institute sustainability policies around the world, it can be difficult to institute and enforce a sustainability policy for travel. If a company uses different corporate travel platforms in each country, for example, travel managers must update each platform with the right rules and manually analyze data for a comprehensive view of their carbon footprint.
Spotnana's global platform with a unified data structure and policy engine makes it simple to deploy global-, regional-, and office-based policy guidelines for sustainability. This data is accessible in real-time inside Spotnana's dashboard and can be exchanged via API connection with any capable third-party sustainability service provider.
"In a modern cloud based platform, you can start thinking very differently," said Thorsen. "You can now create one single set of sustainability policy norms that will be deployed on top of every single country, because you're operating on a new open platform on top. All you need to do is define your global sustainability policy and connect it to your global service platform."
6. Inefficient Servicing
Modern technology is helping to remove servicing problems caused by fragmentation between the different parts of the corporate travel technology stack.
Servicing can be improved by placing the elements of a trip inside a trip container, instead of linking discrete trip services across different itineraries.
​​"In the old world, the agent and the traveler used different content, different rules, and different environments to make and service bookings," said Thorsen. "What if everything went into one trip container? So instead of having four different bookings, you just have four services being added to a container. It didn't matter if the traveler or the agent added these components, so no matter who made the addition, it shows up in one trip container."
This allows agents to see what travelers have booked themselves for every trip and the traveler to see what has been added or adjusted by an agent. Travelers can also manually edit elements like frequent flyer program numbers and TSA PreCheck numbers without having to contact an agent.
Click here to watch the entire webinar and hear directly from Spotnana VP of Partnerships Johnny Thorsen on how to fix what's broken in business travel.